German Made and Designed High Tech Police Boots
Recruit to Retirement. Buy one pair in the Academy, buy a 2nd pair when first need re soleing, rotate for your career.
Womens Sizes, Womens Fit
All Boots GoreTex Waterproof
New York State Police, Suffolk New York Duty Boot
Worn by majority of European Police and Special Forces
Re Soleable
In Gear Creations
Welcome to In Gear. We have been involved in the planning and supplying of Business Promotions and Custom Pins for 19 Years. We have offices in New York and California serving a unique client base. Please call for direction in obtaining ANY item for the promotion of your company or organization. We take pride in never failing to obtain a requested item for a client.
VIEW OUR LINKS TO THE LEFT FOR SOME OF OUR PRODUCTS
Featured Item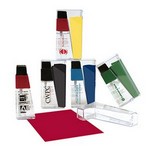 Lens & Screen Cleaning Kit (6"x...
Screen & Eyewear cleaner kit. Build brand awareness with a gift clients can use over and over again. This carekit comes with a micro-fiber cloth printed with any logo and a bottle with liquid cleaner....
$2.50 - $3.12
Signature Showrooms